THE SEVEN PRINCIPLES PROGRAM FOR COUPLES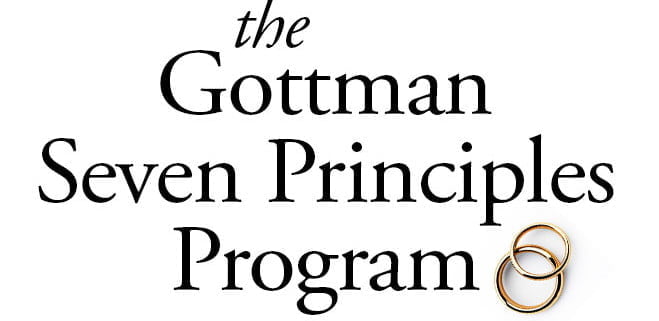 June 24, 2023 - St. George Byzantine Catholic Church Olympia
10:00 AM PST - 5:00PM PST
June 10, 2023 - Virtual Workshop
10:00AM MST - 5:00 PM MST
Do you have difficulty communicating and understanding each other? Are you stuck, arguing in circles about the same issues? Or are you in a good relationship and would like to make it even better?
THEN, THIS WORKSHOP IS FOR YOU!
WHAT YOU WILL LEARN IN THIS CLASS:
The Seven Principles Program will give you new insights and research-based relationship skills that can dramatically improve the intimacy and friendship in your relationship and help you resolve conflict in a healthy, productive way.
This class combines teaching and demonstrations with one-on-one work sessions where you and your partner focus on your relationship with each other. Confidentiality is strictly maintained. Although we encourage questions and comments, you do not need to speak in the workshop if you do not want.
YOU WILL LEARN HOW TO:
Foster respect, affection and closeness

Build and share a deeper connection with each other's inner world

Keep conflict discussions calm

Break through and resolve conflict gridlock

Strengthen and maintain the gains in your relationship
IS THIS WORKSHOP FOR US?
The Gottman Seven Principles Program is designed for all couples in a committed relationship, including:
If you are dealing with emotional abuse, domestic violence, unwanted touch, or substance abuse, this class is not appropriate, and you should instead seek individual or couples therapy.
Event Policies
Transfer/Cancellation Policy:
If cancellation is made one week before the conference, a full refund minus a $30 processing fee will be given. If your cancellation occurs after the deadline, your registration will be converted to a credit, good for a full year, that can be applied to future workshops.
Additional Workshop Information
We would like to advise that our couples workshop is presented as a seminar. It is meant to be psycho-educational and is not meant to be couples therapy. We do offer virtual and in-person couples therapy, consultations, and additional resources at Mount Tabor Counseling. While we believe that the content of this workshop is based on sound research and principles, there is no warranty or guarantee, expressed or implied about the benefit of this workshop for your specific concerns.
Private Workshop Options: 
For our high profile couples, or couples that simply prefer more privacy, we recommend you inquire about a private 1:1, or small-group presentation (with your friends or family). The Seven Principles Program presentation is tailored to you and your relationship and you receive expert support from one of our presenters throughout the experience. Flexible weekdays, evenings, weekends to meet your scheduling needs.  Can be tailored to fit fit your schedule from 2-12 hours of time. Presented live virtually or in-your-home. Email basil.balke@mounttaborcounseling.com for custom package pricing. 
Questions:

Please review the FAQ section below. For any additional questions, please email programs@mounttaborcounseling.com. Please only send workshop-related questions. We are unable to respond to therapeutic questions via email.